In this article, we are going to tackle how to create a Facebook business page. 
Having a Facebook business pages help you develop a stronger relationship between your brand and your customers. No matter what your business engagement is; whether you're responding to customer feedback, nurturing prospects, sharing content, or simply creating awareness for your business.
The Facebook business page is one of the most important online assets that you can plant your business flag on and attract floods of customers. In fact, It is a necessary tool for operating any business online in this 21st century.
Getting Started With Your Facebook Business Page
To get started, go to Facebook's "Create a Page" .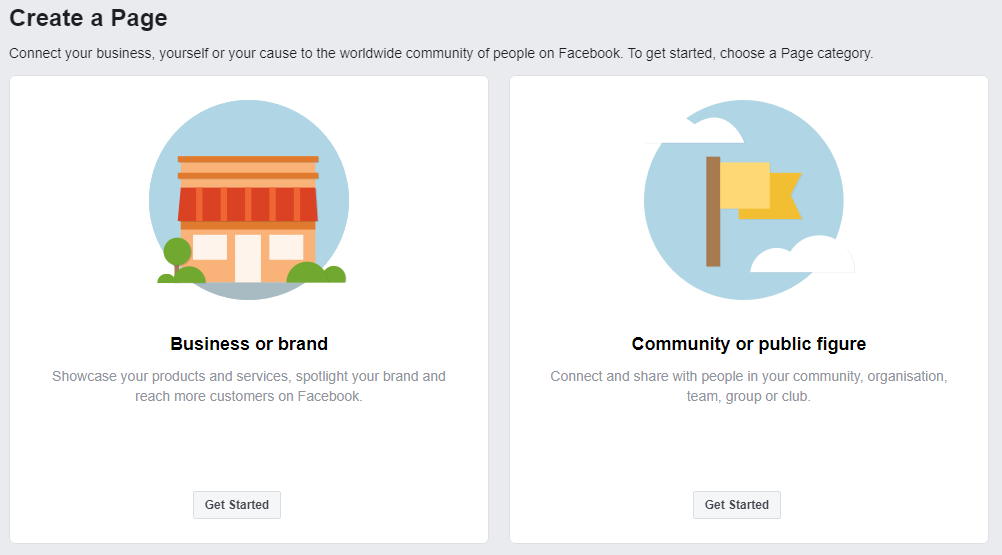 Select the first option (business or brand) by clicking "get started" button and a form field will slide out revealing the following form field: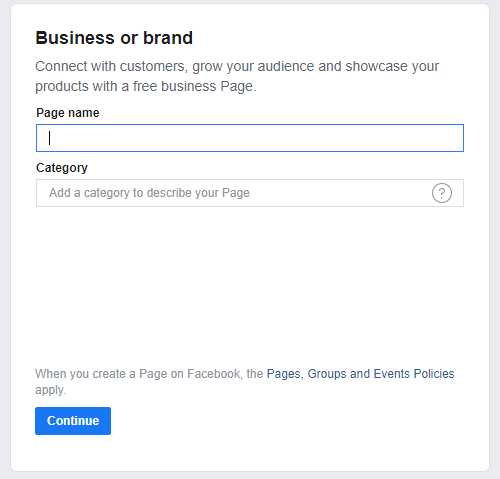 Give a name for your business page. If you're having trouble with the "Page Category" field, just choose something that relates to your business in any way; you can edit your selection later.
Once completed, click the blue "Continue" button and you'll go through three steps to add a photo, cover photo, and book now button.
After which you will be taken to your brand new empty shell of a Facebook business page.
Your Facebook Business Page Bedrock: Templates & Tabs
We're going to spend some time getting everything right in the "Settings" tab; the link in the top right-hand corner of the Facebook user interface.
Once you click on the link "Setting", it will take you to the editing field where you can effect some changes for your business page.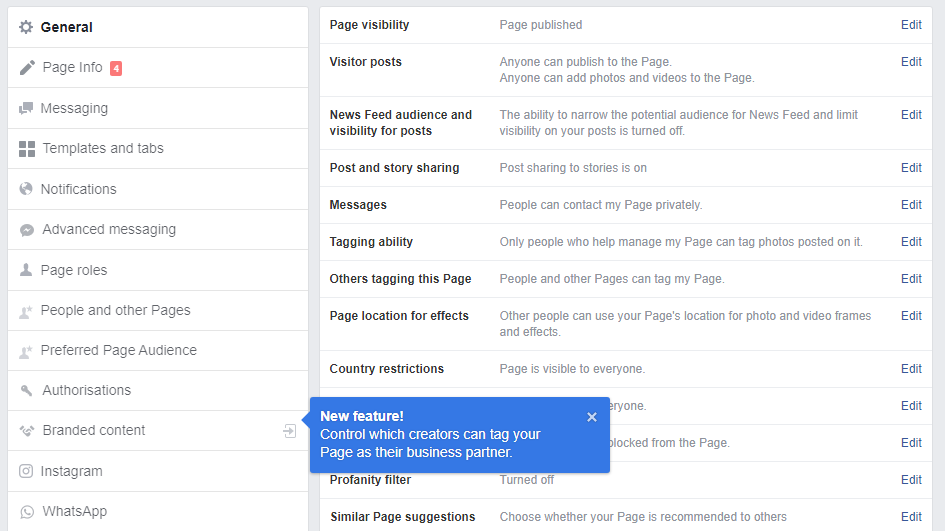 First let's look at "Templates and tabs".
Under the "Settings Page" option by the left, you'll notice a section called "Templates and Tabs". This feature allows you to alter the tabs that visitors can access on your page by making changes to templates and tab settings.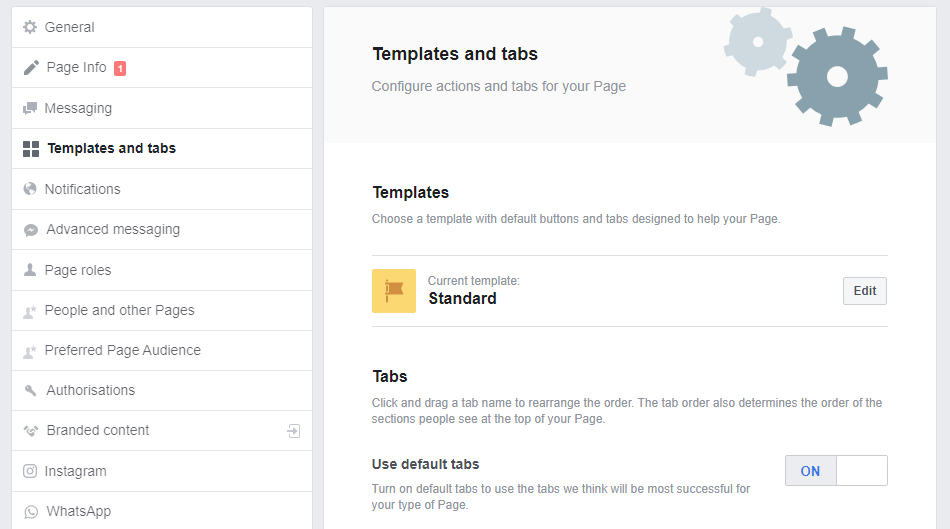 I'll recommend you use the business template.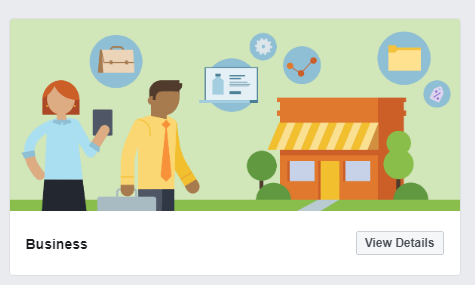 Here is what your new tabs will be for the business template:
Home
Posts
Events
Reviews
Videos
Photos
About
Community
Groups
Offers
You can remove or adjust the order of your Page's tabs directly below the "Templates" section of the Edit Page menu.
To add to this, using the "Business" template will also add a customization CTA button to your page. However, before heading back to your business page itself, you should take some time to familiarize yourself with the mode of customization options available to you in the page settings interface.
Your Facebook Page Profile and Cover Pictures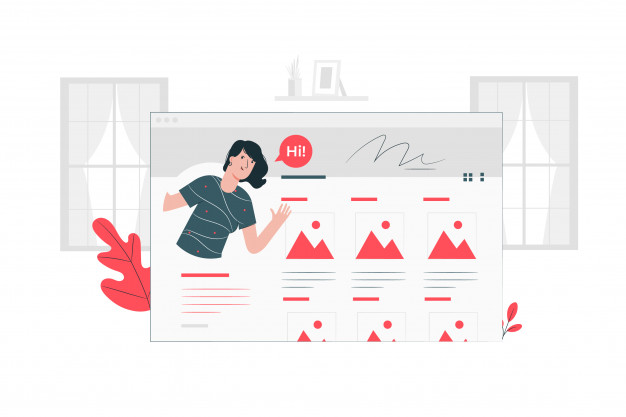 Its time to edit your page profile and change your cover photo.
Your cover photo (or video) is the first thing your visitor notice as they land on your page. Therefore, it needs to sell your business.
For example, you can share a video of your team working on a task to show the collaborative nature of your workspace, promote your company's culture, and boost your brand awareness.
You can also use the cover photo to advertise an impending event, offer a discount code, or simply convey the benefits of your product or service.
This means that you need to have a killer cover photo.
While profile pictures, on the other hand, are a straight-up brand focus. Due to size constraints, I'll advise you to use your logo for your profile picture rather than trying to have something elaborate into a tiny square frame.
With that in mind, here are some good guidelines and best practices for both profile and cover pictures.
– Facebook Business Page Profile Picture
Your profile picture only needs two things to make it super good: scalability and familiarity.
You shouldn't attempt to distract with your profile picture. The truth is most folks won't even notice that it exists due to its size, their eyes are more drawn to the larger, more dynamic cover picture or down the screen to where important information lies. 
This is why it's so important to stay clear of text: nobody's going to be able to read it. If you don't have time to come up with something precise, just use your logo.
On a computer, your profile picture will display at 170 x 170 pixels; on a smartphone, it's 128 x 128 pixel.
You should also note that your profile picture begins to take a smaller circular image as you begin to use Facebook ads or engage with page visitors,
– Facebook Business Page Cover Picture (or video)
This one is simple but tricky as you've got more space to work with.
If you haven't already added a cover element to your business page, you should see an expansive grey wasteland on the cover page area.
Click the "Add a Cover" button in the corner of this space which gives you the option of either adding a photo or a video.
On a computer, your cover photo Displays at 820 x 312 and on smartphones it is 640×360. If you want to use a video instead, it must be between 20 and 90 seconds and no smaller than a cover photo.
Whether you decided to go with an image or a video, please avoid clutter at all costs. Visitors can scroll down your page to find swaths of copy to read. Your cover element should be a brand play, something fun, and evocative, not a how-to guide.
Take this as an example:
Facebook Business Page Username 
Your Facebook business page username is an essential component to establish your brand engagement. Having a username associated with your business page will allow prospects, customers, and page visitors to tag your business in posts and comments.
It's easy to implement.
Use the name of your business as your username. In a case where your name is already taken, creativity has to play. Provided you can stick to alphanumeric characters and come up with something that's at least five characters in length and devoid of bigotry or foul language, you're good to go.
One suggestion here is to append a geo-modifier (instead of just "@businessname," use "@businessnamelocation") to your username especially if your business is hyper-local or the page you're creating is for a single location
This can help to convey trust and gives the confidence to share the most relevant content.
Boost Engagement With a Button
Adding a button to your business page is a great way to push visitors towards action. Whether you'd like someone to make a booking with you, contact you, or make a purchase, pinning a button to the space below your cover image is a free way to incite action that you might otherwise have paid for.
To add a button to your business page, click "+Add a Button." From there, you'll be directed to an overlay that outlines the five different CTA options available to you. 
Simply click on any of the option you want to for your button.
For that reason, I'd suggest choosing the "Shop With You" option (if you're selling a product).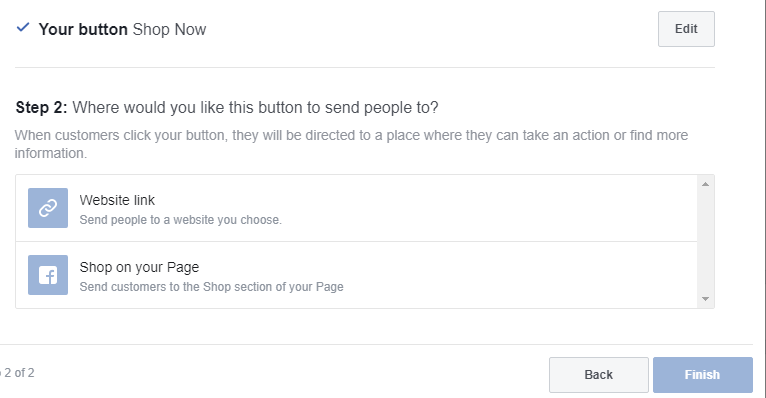 Once selected, enter the URL of your product page, prospects who visit your business page now have a direct path to purchase.
Similarly, for lead generation outfits, the "Make a Booking With Us" button will allow you to link to a relevant page on your website. Setup will look the exact same as outlined above.
Add Relevant Business Details to Help Customers Find You
You've successfully set up your Facebook business page with eye-catching visuals and interactive elements: now it's time to input some important information.
Jump over to the "About" tab and click the "Edit Page Info" link at the top of the page.
This will open a single, streamlined menu through which you can enter basic information about your business, including:
General – This is where you can alter your business's category and add a brief (255 characters) description of what it is you do.
Contact – Phone number, link to a website, email address. You can also link to additional pages here (product-centric content, careers, etc.).
Location – You can opt-out of including your location on your page by unchecking the "Customers visit my business at my street address" box below the map.
Hours- Pretty self-explanatory.
Upon completion, double-check your business information for accuracy. You're finally ready to start posting content and promoting your business on Facebook.
Promoting Your Business on Facebook
While a business page is going to give you the ability to provide general information about your offerings and share new content with existing fans, it isn't going to function as an explicit lead generation tool without advertising.
Now that you've got a killer Facebook business page, it's time to put the platform to use.
See how to get started with Facebook Ads.
Boom You Are In
Creating a Facebook business page is the first step to set your business up for success. You've succeeding having your Facebook business page, feel free to drop a comment about your experience, and don't forget to share these articles to your friend.